This reading challenge is hosted by
Curiosity Killed the Bookworm
. You can choose to do a line, try to do as much as possible in your preferred genre, attack it randomly or go for the full house. Science fiction, fantasy, horror, speculative and magical realism genres all count.
The sign-up link is
here
and you can enter to win a SFF book of your choice. You can also link up your reviews
here
. Below are some of the books that are might read for this challenge, but I haven't thought of all of them yet, so there are some gaps.
Books I might read for this challenge:
Space:

Fantastic Beasts: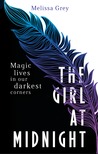 Haunted:

Undead:



Re-Telling:
Bite Me:



Demonic:



Immortal: